"Fuckin' Glory to the Spearhead Squadron!!"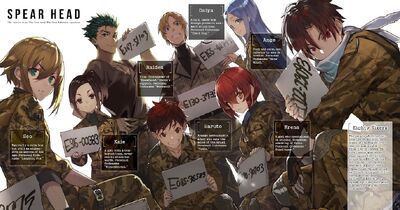 The Spearhead Squadron is a squad of elite Eighty-Sixer pilots led by Shinei Nouzen . Their current Handler is Vladilena Milizé. They are deployed to the First Ward on the Eastern Front of the Republic of San Magnolia.
Haruto (deceased)
Daiya Irma (deceased)
Kaie Taniya (deceased)
Kino (deceased)
Chise (deceased)
Touma (deceased)
Kuroto (deceased)
Kujo (deceased)
Mina(deceased)
Matthew(deceased)
Community content is available under
CC-BY-SA
unless otherwise noted.