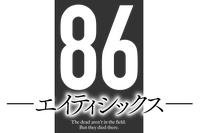 86ーEighty-Sixー (86ーエイティシックスー,, Eiti Shikkusu?), stylized as 86--EIGHTY-SIX or 86: EIGHTY-SIX and synonymously known as simply 86, is a Japanese science-fiction light novel series written by Asato Asato and illustrated by Shirabii, featuring mechanical designs by I-IV. It has been serialized under ASCII Media Work's Dengeki Bunko imprint since February 10, 2017. Yen Press licensed the light novels in English and published the first volume on March 26, 2019 under their Yen On imprint.
Plot
The Republic of San Magnolia has been at war with the Giadian Empire for nine years. Though it initially suffered devastating losses to the Empire's autonomous mechanized Legion, The Republic has since developed its own autonomous units, called Juggernauts, which are directed remotely by a Handler. While on the surface the public believes the war is being fought between machines, in reality, the Juggernauts are being piloted by humans and all of them are the Eighty-Six, the designation given to the racial minority Colorata of The Republic who originally had equal rights as the dominant Alba race but were persecuted and scapegoated by the racist-led Alba government to the point the Colorata were considered not human, not allowed to have names and forced to live in internment camps in the Eighty-Sixth Sector while being forced to fight in the Republic's war with the Empire to restore their family's civic rights.
Vladilena "Lena" Milizé is an Alba noble of Major rank in the Republic's Military who is assigned as a Handler of the elite Spearhead Squadron comprised of seasoned Processors who have earned names. Led by their field commander and squad leader, Shinei "Undertaker" Nouzen, the Spearhead Squadron are infamous due to many Handlers who have commanded the squad having their psyche broken down and some even committed suicide. As Lena gets to know Shinei and the rest of the Spearhead squadron, she becomes sympathetic to his people's plight and tries to help them. At same time, Lena and Shinei learn a dark secret: the Republic and the war with the Empire is not what it seems on the surface.
Volume List
Reception
In November of 2018, it was reported that the first five volumes alone of the novel had sold over 500,000 copies.[1]. In March 2021, approximately a month before the TV-anime's premiere, Dengeki Bunko announced via Twitter that the series had cumulatively sold over 1,000,000 copies.[2]
Achievements
Promotional Material
External Links
See Also
References