86 -Eighty Six- (86ーエイティシックスー, Eiti Shikkusu?), stylized as 86--EIGHTY-SIX or 86: EIGHTY-SIX and synonymously known as simply 86, is an anime adaptation of Asato Asato's sci-fi light novel series published by ASCII Media Works. The series, produced by Aniplex and production led by A-1 Pictures, premiered on April 10, 2021 (effectively April 11, 2021). The second-half of the season premiered on October 2, 2021.
Plot
[
]
The Republic of San Magnolia has been at war with the Giadian Empire for nine years. Though it initially suffered devastating losses to the Empire's autonomous mechanized Legions, The Republic has since developed its own autonomous units—Juggernauts—which are directed remotely by a Handler. While on the surface the public believes the war is being fought between machines, in reality, the Juggernauts are being piloted by humans and all of them are the Eighty-Six, the designation given to the sub-humans of the Eighty-Sixth Sector who are persecuted and stripped of their rights by the racist-led Alba government.
Major Vladilena "Lena" Milizé is an Alba noble and military officer in the Republic's Military who is assigned as a Handler of the Spearhead Squadron of the Eastern Front, an elite unit composed entirely of Eighty-Sixer veterans who have earned names led by their squad leader, Shinei "Undertaker" Nouzen. As Lena gets to know Shinei and the rest of the Spearhead Squadron, she becomes sympathetic to his people's plight and tries to help them. At same time, Lena and Shinei learn a dark secret: the Republic and the war with the Empire is not what it seems.
Episode List
[
]
Episode #
Episode Title
Japanese Air Date
English Air Date
1
Undertaker
アンダーテイカー
April 10, 2021
June 19, 2021
2
Spearhead
スピアヘッド
April 17, 2021
June 26, 2021
3
I Don't Want to Die
死にたくない
April 24, 2021
July 3, 2021
4
Real Name
本当の名前を
May 1, 2021
July 10, 2021
5
I'm With You
私も一緒に
May 8, 2021
July 17, 2021
6
Through to the End
最後まで
May 15, 2021
July 24, 2021
7
Will You Remember Me?
忘れないでいてくれますか?
May 22, 2021
July 31, 2021
8
Let's Go
行こう
May 29, 2021
August 7, 2021
9
Goodbye
さよなら
June 5, 2021
August 14, 2021
10
Thank You
ありがとう
June 12, 2021
August 21, 2021
11
Here We Go
行くよ
June 19, 2021
August 28, 2021
SE 1
Coquelicots Blooming Across the Battlefield
戦野に紅く 雛罌粟の咲く
June 26, 2021
—
Episode #
Episode Title
Japanese Air Date
English Air Date
12
Welcome
ようこそ
October 2, 2021
December 11, 2021
13
It's Too Late
今更そんなこと
October 9, 2021
December 18, 2021
14
Glad to Be Here
よろしく
October 16, 2021
December 25, 2021
15
Welcome Back
おかえりなさい
October 23, 2021
January 1, 2022
16
Even So
それでも
October 30, 2021
January 8, 2022
17
I Won't Forget
忘れません
November 6, 2021
January 15, 2022
SE 2
Visual Commentary Special Episode
ビジュアルコメンタリー特番
November 13, 2021
—
18
The Truth Is
本当は
November 20, 2021
January 22, 2022
SE 3
If There's Something Worth Dying For
死して甲斐あるものなれば
November 27, 2021
—
19
Stay This Way Forever
いっそこのまま
December 4, 2021
January 29, 2022
20
Together Unto Death
死ぬまで一緒に
December 18, 2021
February 5, 2022
21
All That's Left
もうこれしか
December 25, 2021
February 12, 2022
SE 4
At Least Try To Be Human
せめて人間たらんと
March 5, 2022
—
22
Shin
シン
March 12, 2022
May 14, 2022
23
Handler One
ハンドラー・ワン
March 19, 2022
May 21, 2022
Main Staff
[
]
Main Cast
[
]
Music
[
]
Soundtrack
Opening Themes
Ending Themes
Blu-ray & DVD
[
]
History
[
]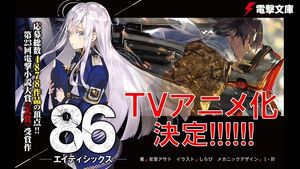 The TV-anime adaptation was announced on March 22, 2020 during a live-stream event commemorating the first year anniversary of Kadokawa's light novel recommendation website Kimirano. The official anime website domain and an official Twitter account was set up to coincide with the the video trailer and reveal of a poster. The information disclosed in the reveal included the production studio, series director, series composition, and character designer on the staff side, and the character voice actors for Shinei Nouzen and Vladilena Milizé on the cast side.[9]
On December 22, 2020, a livestream event of the anime adaptation on Aniplex's YouTube channel and NicoNico revealed the first promotional video along with the first key visual.[10][11] Information was also lifted regarding the CG production team and music composition along with the disclosure of the release date slated for April, 2021.[12][13]
On March 5, 2021, during the Kadokawa Light Novel Expo 2020 the 86 stage event unveiled the anime will premiere on April 10, 2021, at 24:00 JST and the Japanese stations on which it will air weekly. A second promotional video featuring a short length of the ending theme song "Avid" by SawanoHiroyuki[nZk]:mizuki, along with the second and final key visual before its broadcast was lifted.[14][15] On the staff side, information regarding art director, background art, color designer, CG director, director of photography, editor, and sound editor was disclosed, while on the cast side - the character voice actors for the Spearhead Squadron and other supporting characters. The opening and ending theme song titles and performers were also revealed.[16][17][18]
On March 26, 2021, during the AnimeJapan 2021 event the 86 stage released the third and final promotional video the before official premiere which featured a short length of the opening theme song "3 minutes 29 seconds" by hitorie. It was also revealed that the anime would be divided into two cours.[19]
On March 31, 2021, Muse Communication licensed the anime for simulcast in Southeast Asia where it will stream on the services iQIYI and Bilibili.[20] And on April 6, 2021, Crunchyroll announced 86 as part of their Spring 2021 simulcast lineup where it will be available for streaming in North America, Central America, South America, Europe, Africa, Oceania, the Middle East, and CIS.[21]
On April 14, 2021, Crunchyroll announced the anime will have English, Portuguese, Spanish, French, and German dub options in their respective regions.[22]
Promotional Material
[
]
Images
[
]
Videos
[
]
External Links
[
]
See Also
[
]
References
[
]